Stallvärme offers innovative FIR tech horse solariums and infra heating solutions for the whole farm. Our products are energy efficient, safe and loved by the horses and grooms alike. They assist in making your equestrian property a comfortable and beneficial environment for the horse and human all year round. Keep your stable dry and optimize the air quality at the same time with Stallvärmes heating solutions.
Stallvärme also offers a portfolio of innovative and high quality interior products for the stable such as Horselight, Capillary, Qloss, Barnery and Finnish Equestrian.
We invite you to explore our brand and see how our products can improve your horses and your management routine to help create a comfortable climate every month of the year. 

Founders of Stallvärme are Jessica Nelin and Ilona Eismann.

Jessica Nelin, works in the Green Tech industry and have many years of experience working with IR-technology, medical devices as well as heating solutions. In the horse world she is a retired eventing rider and for many years a small scale breeder of dressage horses.

Ilona C Eismann is a proffesional dressage rider. Today based in Denmark. She has her background at Lövsta Stuteri in Stockholm, Sweden. - I spent four years grooming for Tinne Vilhelmson Silfvén during my eleven years at Lövsta. Together we did 1 Olympic Game, 2 World Cup finals and 2 European Games as well as the WEG in Kentucky 2010.

"I´ve worked as a top groom for many years trying most devices and metods on the market, to help the horses perform at their absolute top. I many times just dreamed of the perfect solution. The Stallvärme Solarium has an amazing effect on the horses. Leave them in there to heat up their bodies or dry up after a shower. A horse that has a tense back will feel soft after 30 minutes. There are many Infrared Therapy Systems out on the market but our Stallvärme Solarium really gives a direct result visible to your eyes and hands.

I also care a lot about the horses well beeing. In traditional Solariums the horses many times get stressed because of too much heat or the sound of fans etc. Horses love Stallvärme Solarium, it´s quiet and gives a soft heat that horses truly appreciate" – Ilona Eismann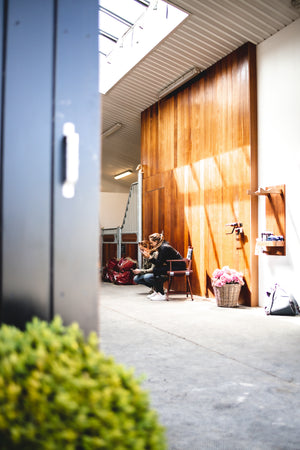 Stallvärme are developing the solutions for your equestrian life, together with our brand ambassadors.
Stallvärme is a part of the European Regional Development Fund programme.